R&D projects at our Airports
Here you will find full details of R&D projects that Ferrovial is developing in its Airports division.
Innovation is one of the key elements in airport management for Ferrovial, and this is reflected in its continued efforts to develop and implement initiatives incorporating the latest technological innovations with the aim of boosting efficiency and improving passenger satisfaction. Innovation at Ferrovial Airports is channelled through several different programmes.
One of these is the Zuritanken awards, a competition run by the Company to boost and value innovative ideas from staff. Some of the projects which won awards under this programme are already being developed in our airports. One example is Noise to Energy, winner of the second edition of the Zuritanken awards, where Ferrovial Airports is working together with the Massachusetts Institute of Technology (MIT) and Heathrow Airport to develop a system for capturing the noise made by aircraft at the airport and transforming it into electrical energy. A project which is a huge challenge in itself, as noise or sound is considered a weak source for obtaining energy and there are currently very few examples of projects working along these lines.
In addition to the Zuritanken awards, Ferrovial has developed other projects in the airports it manages to achieve more efficient operations and enhance passenger satisfaction.
GLAdys, a robot with a heart
Airport teams are made up of many different professionals with different profiles, different job descriptions, and different origins. But it would be difficult to find someone as special as GLAdys, the first humanoid robot to work in a British airport.
Over the months of December 2016 and January 2017, GLAdys entertained passengers transiting the airport's departure areas by singing Christmas songs and telling festive stories. GLAdys was also equipped with a selfie camera to take selfies with passengers, and those who wished could have their photo sent to their email address.
This first experience allowed Ferrovial to gauge passenger reaction to such a special "customer service" staff member. Following the excellent results of this first trial, GLAdys will return to Glasgow Airport  in the summer of 2017 with new functionalities and solutions aimed at enhancing passenger experience.
GLAdys has been developed from commercial robot Pepper, the first humanoid robot capable of recognising human emotions and adapting its behaviour accordingly. GLAdys' functionalities can be adapted to suit any environment, so that it can easily be used in other airports.
GLAdys is part of the Digital Passenger Experience project being developed by Ferrovial Airports and Glasgow Airport, together with Ferrovial's Digital Hub  and the General Directorate for IT and Innovation, and aims to improve passenger experience through digital technology.
The transport of the future: driverless cars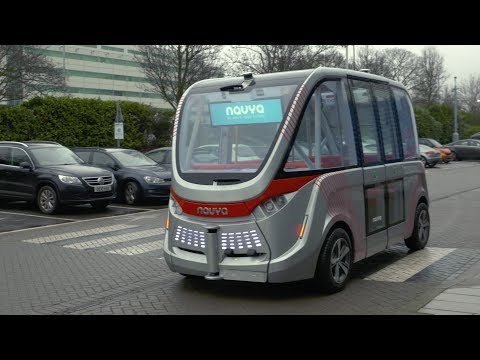 Heathrow Airport has recently set up a working group to explore developments in the driverless car sector and their possible use in different infrastructures.
Within the framework of this initiative, towards the beginning of 2017 staff at Heathrow Airport, Ferrovial Airports and the department for innovation  at Ferrovial took part in the display and testing of driverless vehicles, organised by Heathrow with the aim of making airport staff familiar with this new type of transport. This event had the support of some of the leading companies in the sector, such as Siemens,  Arup o Atkins through presentations on issues such as cyber security, current and future trends within the sector, or how this new type of transport contributes to innovation in cities, amongst others.
This is, however, not something new for Heathrow, since it is one of the few airports in the world already using a similar transport system: its PODs connect the T5 Car Park with the terminal building along a 3.8 km railway track.
Navya "Arma" is the name of the vehicle that has been on display in Heathrow's Compass Centre for three days, travelling alongside the usual vehicles and pedestrians present on any normal day at the airport. Developed by French company Navya, which specialises in innovative and sustainable mobility solutions, "Arma" is 100% driverless and electric. It can currently take up to 15 passengers and reach a speed of 45 km/h. Moreover, it is equipped with a powerful 3D navigation system which allows it to easily identify obstacles and road signs, and assess traffic conditions.
Automatic detection of the use of auxiliary power units (APUs)
Heathrow Airport and Japanese company Fujitsu have worked together to develop a system for automatically detecting the use of auxiliary power units (APUs), which provide electricity, hydraulic pressure and air conditioning, amongst others, while aircraft engines are switched off.
This new system allows automation of a system which to date was performed manually by airport staff. Different tests have been carried out over a period of a month at various airport locations, with very positive results, for in 90.43% of the cases data have been obtained effectively and accurately.
As a conclusion, systems of this type allow efficiency improvements in operations, one of the three basic pillars of innovative projects at Ferrovial airports, together with sustainability and passenger experience.