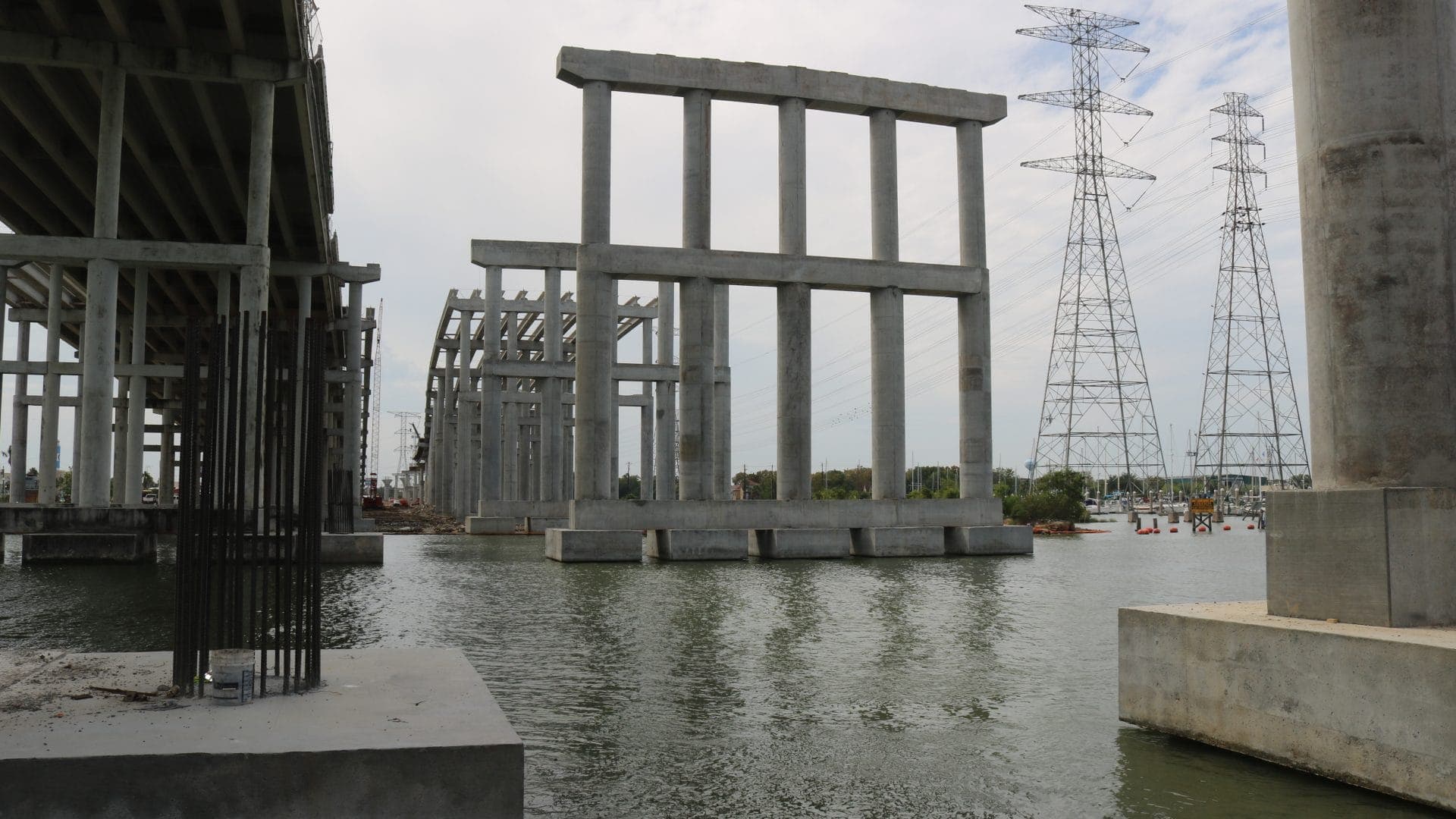 Houston, TX
Length

Contract Value

Bypass Bridge Spans
Webber SH 146 Expansion Project scope is to widen 4.36 miles of roadway, as well as construct a 116-span bypass bridge in Seabrook/Kemah (SE Houston). This highly anticipated local project was bid at $201.8 million with a contract time of 60 months.
SH 146 prior to project startup was a multilane, paved highway with a center turn lane along the project route. The expansion project scope is widening this highway to a traditional freeway system, with six main lanes and two-lane frontage roads. This project extends from Red Bluff road to north of SH 96, approximating at 4.36 miles.
To further alleviate traffic, a 12,628-foot long bridge must be constructed across Clear Lake. This 116-span Express bridge between Seabrook and Kemah will allow three lanes of traffic to travel in both northbound and southbound directions, easing congestion for local traffic. In addition to building the new bypass bridge, the project expands the existing 40-span bridge from two lanes to three lanes in either direction for local travelers, along with a bikeway.
The contract includes 700+ drill shaft foundations -65% of which have been completed already-, 13 retaining walls with aesthetic details for the City of Seabrook and City of Kemah, and different substructure elements, such flared columns and inverted T-caps.
There are three bents that must be constructed in the Clear Creek Channel for both the arterial widening of the existing bridge and the construction of the new Express bridge. The boundaries of the work area are the bay to the east of the bridge and Clear Lake on the west. An interesting challenge for the project team is that Clear Creek sees over 1,000 boat transits per day during the boating season. The Clear Creek Channel that passes through the work area is the only travel way connecting the bay and the local marinas, which are the second busiest in the United States. In order to partner with the USCG, TxDOT, and local boating communities, Webber implemented a traffic management system utilizing traffic signals on barges, flaggers on boats, and buoys to ensure safe passage of boats travelling through the channel during construction.
This specific traffic control plan and the priority given to value engineering have allowed the project team to maximize traffic flow while minimizing economic impact on local businesses and the traveling public.
Being one of Houston's designated hurricane evacuation corridor for thousands of residents, this project had been long anticipated by local officials and the community and is scheduled to be completed in early 2023.
Click here to see the latest developments of the expansion project in the areas of Seabrook and Kemah.
Photo Gallery
Google Play
App Store