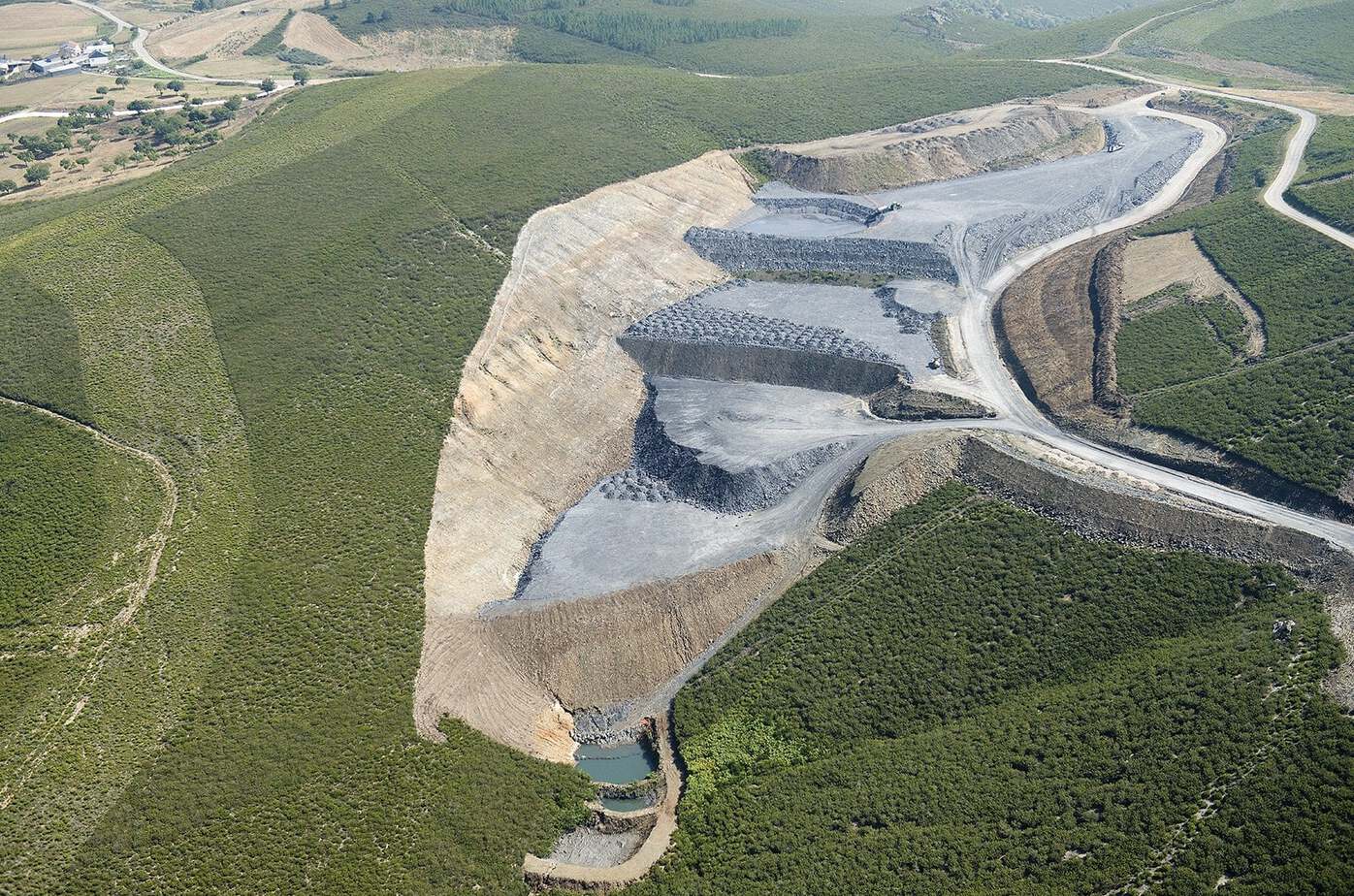 Orense, Spain
Length

Tecnosol

Non-hazardous waste

of Tecnosol
The project consists of building 8.1 km of rail bed for the new high-speed railway line linking Madrid and Galicia, within the 7.9 km Espiño Tunnel. The work, with a budget of 100 million euros, is located in the province of Orense.
Environmental project: Tecnosol
Pyrite (FeS2) and heavy metals were expected to be found during excavation of the right-hand bore of the Espiño tunnel in Orense (Galicia). These materials cause hyper acidification of water due to oxidation, and cause the release of heavy metals into the environment. We are applying a customized artificial soil solution to treat the pyrite material from the tunnel. It is called Tecnosol.
This new technology, developed by the University of Santiago de Compostela, is more effective than the solution envisaged in the original plan. It also involves comprehensive oversight and tracking of the excavated material and leached waters, which will continue for a period of five years after the tunnel is delivered in order to ensure tailing piles are stable and the new methodology is effective.
Environmental advantages of Tecnosol
Extraction and transport of over 32,000 m3 of limestone material is avoided (there are no quarries for this material in the region).
Greater efficiency in the control of leachate.
Guarantee of chemical stability in landfills, avoiding leaching of acidified water.
Reduction in carbon emissions.
The Tecnosoles used are manufactured in Galicia, using 70% of non-hazardous waste. Works are expected to last a further 5 years in order to guarantee adequacy of treatment and stability of the areas being treated. According to projections, approximately 35,000 tons of technical soil will be used for a total of 1.2 million cubic metres of excavated materials.
Energy Efficiency Measures
The main aim of this set of actions is the efficient use of energy and to reduce site dependency on generators and other sources of diesel consumption.
Use of solar panels to supply the hut and weighbridge. Two panels generate 320 W/day, and there is a storage battery providing an output of 230 V and 24 V. The system further includes a light sensor which automatically turns off the inside lighting when there is sufficient natural light.
Installation of LED lights in the 7,900-metre-long tunnel. These lights consume only 24 W, three times less than a fluorescent light, and guarantee at least the same light intensity within the tunnel. They can be connected in series, which further simplifies work. High impact resistance means that there is minimal replacement necessary.
Extension of electricity supply networks from population centres: two generators and two light towers using diesel engines were removed, whilst maintaining electricity supply to the facilities and huts at the mouth of the tunnel, as well as lighting of the platform.
Fitting of timers and light sensors in outside areas where lighting is provided.
Heating of the site office using a pellet stove, removing the existing oil boiler.
Installation of a picoturbine for electricity generation to use the treated water from the tunnel (60 m3/h and a 16 m drop between basin and discharge). The electricity generated feeds the water treatment plant itself. In 300 days, 408.5 kWh have been generated.
Reuse of water from runoff basins
Efficient use of water is a priority aim, which implies that all available initiatives for reuse and saving of water must be applied.
The water used in this building site is extracted mainly from superficial sources (rivers), 6,044 m3, and underground sources (wells), 42,167 m3. Total volume of water used was 150,415 m3.
The digging of a tunnel generates large amounts of water through infiltration and the tunnelling work itself. This water, which tends to have a large content of solid matter, is collected in basins and vertical tanks for treatment, which consists in the decantation and cleaning of the water and an adjustment of its pH to comply with accepted discharge parameters.
However, instead of being discharged back into the rivers, much of this water is reused elsewhere on site, thereby considerably reducing the volume of water collected and the corresponding effect on the environment.
The 102,204 m3 of recycled water produced was used as follows:
109 m3 in water for hydro seeding.
700 m3 for watering newly planted areas.
A small amount set aside for fire prevention (firefighting helicopter).
Close to 100% of the water used for cleaning of roads and elimination of dust.
Related projects
See more projects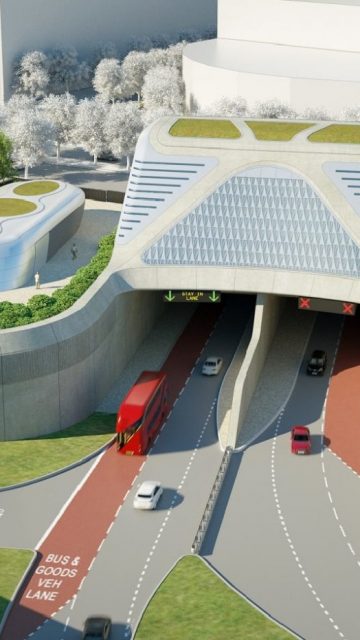 Silvertown Tunnel
Discover the project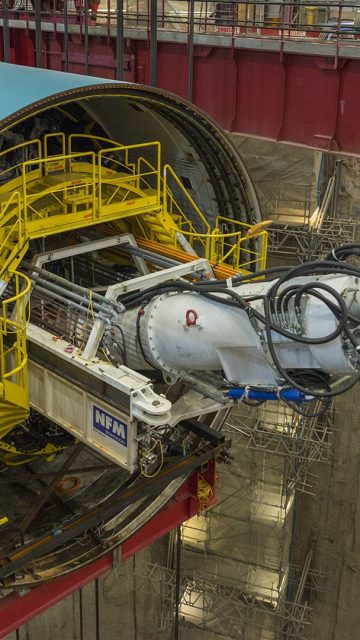 Thames Tideway Tunnel, Central Section
Discover the project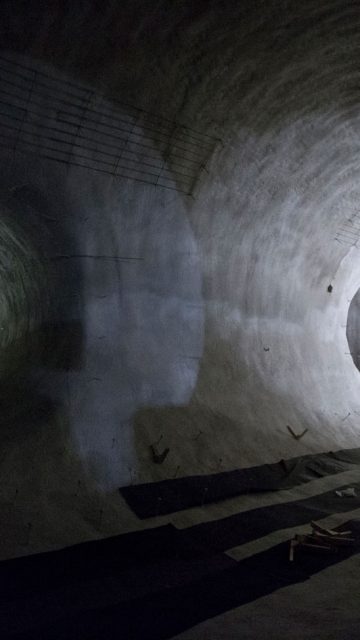 Crossrail
Discover the project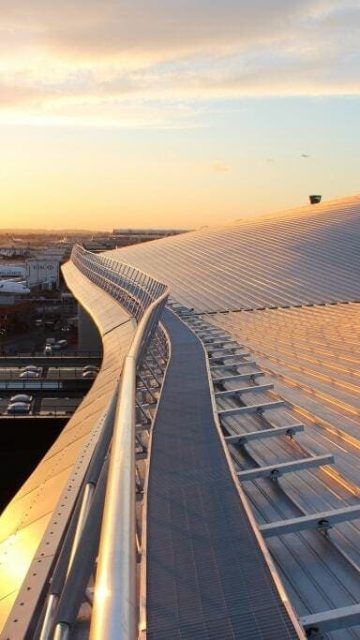 Heathrow Airport
Discover the project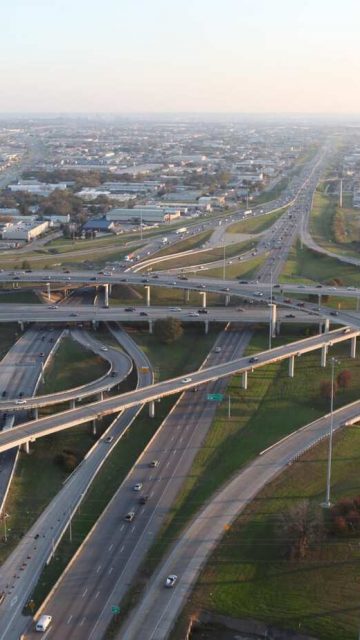 LBJ Highway in Dallas, TX
Discover the project
Google Play
App Store