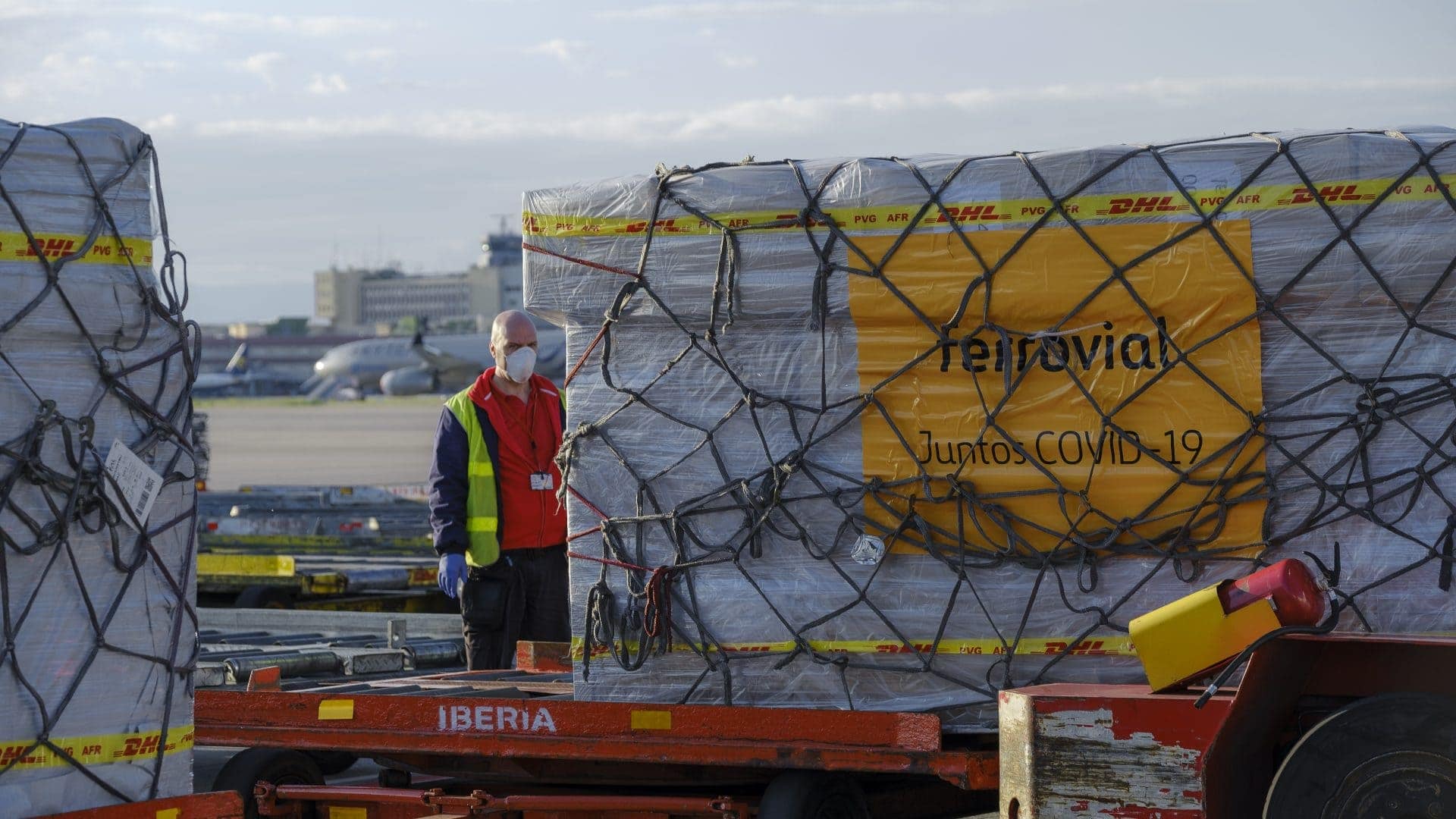 From the start of the pandemic, we have been on the front lines fighting against COVID-19. All our professionals have worked together in order to maintain our activity, while ensuring their safety at all times, to keep promoting a world on the move.
Ferrovial Report Covid-19
Do you want to discover the initiatives we carried out?
Download our report here
We're strengthening our commitment to provide mobility solutions and help alleviate this societal emergency in the face of the current health crisis. The pandemic has created an exceptional situation, during which Ferrovial has deployed all of our capabilities on three fronts:
Protecting workers and users
The first measures were set up at the beginning of March. From the start, we followed the recommendations of the World Health Organization and the administrations in the different countries where we operate for adopting preventive measures and the de-escalation processes. To make sures all activities were well-coordinated, a Follow-Up Committee has been created by the Office of Safety. The organization's different functional areas – including HR, Medical Services, Health and Safety, Information Systems, Communication, and General Services – participated in this. This committee has followed the evolution of the disease across different geographical areas, and it spearheaded implementing preventive and organizational measures like working remotely to ensure our worker's safety, as well as the continuity of our work.
Outstanding protection and hygiene measures that we've put in place to minimize the risk of infection include:
Social distancing, leaving two meters between posts and in meeting rooms, offices, common areas, and elevators.
Wearing masks is obligatory when keeping two meters apart is not possible in common areas and in moving around the office.
Handwashing procedures, with hand sanitizer available in common areas (reception, social areas, printers, elevators, etc.).
Not using other workers' equipment and devices.
Monitoring entryways with touch-free cards.
Other steps have also been taken to improve communication and ensure safety:
Strengthening internal communication through a newsletter to provide relevant information for workers and promote the best hygiene and protection practices against COVID.
At Heathrow and AGS, we're actively working with the NHS to increase passenger safety, rolling out hundreds of hand sanitizer dispensers, emphasizing cleanliness, and installing new signage to ensure social distancing measures.
In the United Kingdom, the US, and Canada, we have expanded the Employee Assistance Program to include family members and offer support 24 hours a day, 7 days a week.
In the US and Canada, we have also provided resources for workers to help them with their children's homeschooling assignments.
Talking with Ignacio Madridejos, our CEO
Letter from Ignacio Madridejos
Maintaining activity
We play an important role in managing priority infrastructures and providing essential services.
Through Services, we have helped alleviate the health crisis by strengthening our operations in activities considered essential after the declaration of the state of emergency.
Spain.- our professionals serve more than 25 million citizens. These critical services, performed by over 16,000 employees, include operating the health emergency telephone lines in Madrid, Castilla-La Mancha, Andalusia, Castilla y León, Murcia, Aragon, Cantabria, and Catalonia (we have answered 85,000 calls a day, doubling shifts and adding 500 new hires); managing ambulances and telecare in Madrid and La Rioja; maintenance and cleaning for the main hospitals across the country (with more than 40,000 beds in 13 regions); and handling clinical and pharmaceutical waste, all of which are essential for daily operation. Of course, we have bolstered street cleaning and collection services in the 13 regions where we operate, tasks for which we have put a collection and management protocol in place to ensure both the proper operation of the service and maximum security, both for workers and residents. For example, in Murcia, we have intensified cleaning and disinfection services, with 400 operators working to meet the demand of public administrations and residents.
United Kingdom.- 9,900 Amey employees have been classified as essential workers for the proper functioning of British infrastructure and public services during the pandemic: roadway maintenance for highways (30,000 km) and railways, waste collection (20 locations, 615,000 homes), treatment plants, facility management at schools and health services (NHS Birmingham & Solihull Mental Health Trust in 21 locations, 1,300,000 people), national security (maintenance of 50,000 homes and 23,000 buildings and facilities belonging to the Ministry of Defense), Ministry of Justice (18 courtrooms, 60 inmate detention and transfer centers), and maintenance for utility companies (water, electricity, gas).
Portugal.- Every day, 350 of our employees are carrying out cleaning, sanitizing, and disinfection tasks at three public hospitals: IPO Lisboa, Centro Hospitalar Lisboa Occidental, and Hospital Distrital de Santarém. These centers have around 1,500 beds in all, taking extreme measures for protection and security wherever possible. Furthermore, we've carried out cleaning and disinfection work at the field hospitals set up in the Estoril Congress Center and the CERCICA at São Domingos de Rana (Lisbon District).
Chile.- We have ensured continuity of the state copper company Codelco's business, as well as the safety of all its employees, by disinfecting its facilities.
Our highways and airports are critical facilities for ensuring the movement of goods and the provision of basic medical supplies in the markets where we operate. As such, they have stayed at the optimum operating level.
On highways, the proper functioning of all facilities has been ensured to meet the needs for transporting food, medicine, and basic goods. Steps have also been taken to facilitate healthcare workers' mobility, for instance, by providing them with free access to the 407 ETR in Toronto.
To ensure its viability and future employment, Heathrow and AGS have temporarily reduced operations, closed terminals, cut costs, slashed part of executive compensation, and renegotiated contracts. Heathrow is maintaining sufficient liquidity to operate in this way for twelve more months.
Throughout the pandemic, essential services have continued to be provided for connectivity and supply:

Heathrow has remained open to provide essential services (connection to the Isle of Man and Belfast), repatriation, and to receive critical supplies for the United Kingdom (food, medicine, health equipment, etc.).

In 2019, 41% of the UK's pharmaceutical imports landed at Heathrow.

At AGS, have been centered around repatriating British citizens, links to remote regions of the Highlands and Islands, air ambulance services for the NHS, and helicopters for the oil industry.

We have all pitched in together to ensure the survival of the aviation industry. Heathrow has relaxed their requirements to maintain slots and introduced free rates for aircraft parking. It has also facilitated the advancement of growth incentive payments that have helped airlines increase their cash flow.
As the world and the aviation industry slowly return to normal, the Heathrow and AGS airports are introducing innovative measures to ensure passengers' wellbeing, such as disinfecting processes with UV light, facial recognition technologies that help with the exact detection of body temperatures, and contactless security procedures to reduce physical contact between individuals. Here at Heathrow, we're actively working in the international field to establish a new International Common Standard for safety that will allow resuming air activity uniformly in different countries following optimal safety conditions.
In Construction activities, protection and hygiene measures have been strengthened, and precautionary and distancing measures have been increased. Following the initial paralysis of many projects, work resumed as the restrictions put in place by the relevant authorities in each country were lifted, getting back to normal.
Ensuring business continuity and sustainability in the medium- and long-term is another priority. We are monitoring the impact of the pandemic on our activity and taking steps in a dynamic plan to secure our future. At the end of the first quarter, the company had a liquidity position of around €5.9 billion and net cash of approximately €1.645 billion, meaning that the predicted debt maturities in 2020 (€1.017 billion) and 2021 (€748 million) are comfortably covered.
Commitment and Solidarity
We organized the "Ferrovial Together COVID-19" initiative, a fund to fight the pandemic. The company made an initial contribution of €5 million, and, along with that, we started a fundraising initiative among employees, directors, shareholders, collaborators, suppliers, and anyone who wanted to participate in increasing the amount. With all of the contributions put together, a total of €8.7 million was raised.
"Ferrovial Together COVID-19" donated to the Health Administration, hospitals, universities, and research and development centers, as well as NGOs in a specific set of projects. These projects were focused on acquiring medical supplies and equipment and investigating pharmacological solutions or vaccines to combat the effects of the COVID-19 pandemic. We also donated funds to help vulnerable groups or those at risk of exclusion as a result of the current health crisis.
Social Aid.-  Some €4.235 billion has been awarded to collaborate with institutions whose prestige is recognized in this field. The beneciciary entities include but are not limited to Cáritas, CESAL, World Vision, and World Central Kitchen, in Spain; The Trussell Trust Food Bank in the United Kingdom; different local food banks and the World Central Kitchen in the United States; Techo in Chile; Acción contra el Hambre in Colombia; CESAL and Ayuda en Acción, in Perú; the Red Cross in Portugal and Poland.
Healthcare equipment.-  €3.555 billion has gone to the acquisition of 830,000 FFP2 masks, 70,000 surgical masks, 117,000 diagnostic tests, and 90 respirators, in addition to other healthcare equipment or personal protective equipment, which was donated to the Communities of Madrid, Valencia, Andalusia, Castilla-La Mancha, Catalonia, the Canary Islands, Galicia, and Cantabria in Spain, and to the National Health Service in the United Kingdom. Material has also been distributed through NGOs in Poland, Chile, Colombia, Peru, and Portugal.
Medical research.-   €900,000 are meant for research into the development of a vaccine for the SARS-CoV-2 coronavirus. We had donated €500,000 to Oxford University, which is undertaking one of the most advanced projects to develop a vaccine. It also allocated €250,000 for two vaccine projects at Spain's National Centre for Biotechnology, which is part of the Spanish National Research Council (CSIC), and €150,000 to Baylor College of Medicine, in Texas, which is working to develop a vaccine that modifies the virus proteins.
Countries.- Spain has received the most funds of any country to date, with a contribution of €5 million, followed by the United States and the United Kingdom, which have received €1.33 and €1 million, respectively. Peru has received a total of €435,000 in funds, Colombia some €380,000, Chile €200,000, Poland €195,000, and Portugal €150,000.
From the start, along with our workers, we have shown a high level of commitment to society. Let's see it by country:
Spain:
APP.- We, along with other companies, have participated in the development of the informative, self-diagnostic applications "coronamadrid" and "asistenciaCOVID-19".
Emergency hospitals.- We have offered to set up collective spaces such as sports pavilions and fairgrounds for healthcare uses, such as the installation of a temporary hospital at IFEMA (the Feria de Madrid), whose total capacity amounts to 5,500 beds, making it the largest hospital in Spain. There, 60 of our professionals worked to assemble in two days 1,600 beds and 30 kilometers of a medicinal gas network that reaches each of the beds. Furthermore, they've managed the waste generated at the hospital, where hazardous and non-hazardous waste collection and compaction equipment has been installed, as well as an intra-center management service (which consists of an operation that works 16 hours a day), four self-compactors, and five daily waste collection routes.
Testing Centers.- We have also offered our construction and design capabilities for building Rapid Test Centers, and the installation of 2 vehicle-based Testing Centers were installed in the Balearic Islands.
3D Printing.- As for our Digital Hub, there we have participated in the creation of low cost assisted breathing devices using 3D printing and electronics. The project documentation will be openly available. We're also participating in another group in the Jaén Technology Park for manufacturing face masks and visors with 3D printing.
Screens.- Donation of 800 protective screens for healthcare workers at different centers in Madrid, Toledo, and Guadalajara. 3D printing technology and the fastening elements from hardhats commonly used in construction have been used in their assembly.
Free parking: Both Serrano Park in Madrid and Valdecilla in Santander granted healthcare workers free use of 830 parking spaces. At the latter hospital, we have also responded to the request from the Spanish Association against Cancer (Asociación Española contra el Cáncer) to provide free parking for oncology patients.
Free TV for patients: at the Valdecilla Hospital in Santander, we made it possible for Covid patients in isolation to have free television service.
"Ferrovial Together COVID-19" Fund
Information here
United Kingdom:
Social aid.- Through the Heathrow Community Trust, we have distributed £95,000 in aid to NGOs, food banks, and aid organizations for isolated and vulnerable individuals in order to equip them with technology that allows them to continue studying and stay in touch with friends and family. The weekly fruit boxes for Heathrow staff have been donated to the NHS. Glasgow and AGS have donated £40,000 to the NGO Simon Community to help homeless people isolate themselves in a hotel if they are infected.
Healthcare equipment: Donation of 6,000 FFP3 masks for NHS personnel working at Thames Valley Air Ambulance and the Hillingdon Hospital. The Tideway Project has donated 800 masks and 250 protective suits. The Northern Line Extension has donated 550 masks, 195 protective suits, 420 gloves, and 500 disposable gloves.
Tests.- The Glasgow and Aberdeen airports have rolled out in-vehicle testing centers in their parking lots for essential and healthcare personnel, in collaboration with the NHS.
3D Printing.- Southampton airport engineers have worked on the design and printing of sewing patterns so that a Winchester community can sew protective suits for healthcare professionals. They have also helped create adjustable fasteners for healthcare professionals' masks using 3D printing.
United States:
Volunteering. The communications campaign, "10 Ways to Safely Help Your Community," has helped advise our employees on to work with the communities where they live with a set of rules for steps to take, maintaining strict health surveillance at all times. This project ranges from financial donations and helping the elderly to ways to "volunteer from home."
Canada:
Health and social aid.- The 407 ETR highway in Toronto has donated 5.2 million Canadian dollars to support communities and healthcare workers against the coronavirus. Some $4 million (CAD) will be spent over the next three years on vulnerable individuals and families in the towns of Durham, Halton, Hamilton, Peel, Toronto, and York to provide them with long-term support. With this donation, the 407 ETR is becoming the United Way's first corporate partner in Canada, an NGO that has been supporting the country's local communities for over 100 years. It will also donate $1.2 million (CAD) so that up to 24 hospitals in the Toronto and Hamilton Metropolitan Area can access medical supplies, such as personal protective equipment or care equipment for critically-ill patients.
Free access for healthcare workers.– In March, the 407 also donated more than $300,000 (CAD) to personnel who work in hospitals so that they can use this asset for free.
Poland:
Social aid.- We have centralized aid from Budimex through the program called, "We are together. WE HELP," from which 2,7 million zlotys of medical supplies have been donated for hospitals.
Volunteering.– Our Polish employees have also voluntarily work with Warsaw's "Central Clinical" hospital to adapt the facilities to receive patients with Covid.
Colombia:
Photo Gallery
Google Play
App Store