The mobility business unit is one of the mostly recently created, and it was born with the goal of promoting and developing new opportunities in the field of mobility related to the infrastructure business, and coordinating existing initiatives, such as ZITY and Wondo.
Citizens' new habits, technological disruption, care for the environment and traffic congestion in cities are leading to new forms of mobility that are cleaner, more efficient and more sustainable. Thanks to our experience with developing and operating transport infrastructures and the knowledge of their users, we provide innovative mobility services that are adapted to the new demands of the market.
We bet on infrastructures adapted to connected, autonomous, shared and electric vehicles and mobility solutions focused on the end user with a strong technological component.
The mobility sector is one of the sectors that is seeing the most disruptive innovation. For this reason, we develop mobility solutions focused on the user of our infrastructures, work to optimize information technology services for mobility and bet on infrastructure adapted to connected, autonomous, shared and electric vehicles.
Our mobility projects
Two of the most outstanding examples of the work our mobility business unit are ZITY and Wondo. The former consists of an electric carsharing services that bases its business model on renting electric vehicles by the minute. In collaboration with Renault, in Madrid we have a fleet of more than 750 Renault ZOE 100% electric vehicles, with a range of 300 kilometers. The startup Wondo offers, within a single platform, all of the mobility options available in the city of Madrid and payment for the services, including taxis, public transportation and carsharing and motosharing services. Wondo was sold to Maas Global in May 2021.
Projects
Get to know us better
See all projects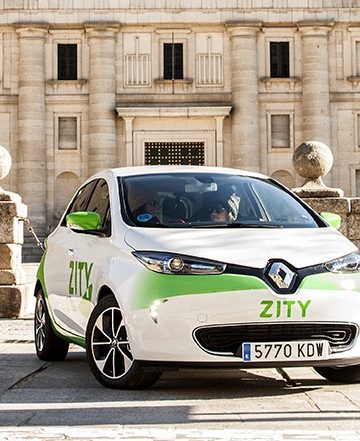 ZITY, electric carsharing in Madrid
Discover the project
Ferrovial's Key Figures from 2021
Integrated Annual Report

Open in a new tab
Revenues

Capitalization

Operating Cash Flow

Employees
Google Play
App Store