Parts of a road
What is a road?
A road, also called a route, is the term used to refer to a transportation route for traffic, primarily vehicular traffic. It is for public use and allows the road to connect with other types of roads like highways or with nearby properties by different types of accesses.
What are the parts of a road?
Every road, regardless of its complexity or width, consists of parts that are associated with its purpose and demarcation:
Platform: the area that brings all the parts of the road together.
Roadway: the part of the road intended for vehicles to travel on and that, depending on its size, may be made up of one or more lanes.
Lane: a longitudinal strip that is part of the roadway. If there are several, they are usually delimited by road markings, with enough width for the passage of anything from motorcycles to large vehicles.
Median: a dividing structure or strip located in the middle of a road to separate two-way lanes, preventing vehicles traveling on lanes going in the opposite direction from colliding.
Gutter or drainage: a ditch located on the sides of the road at a lower level, where wastewater is collected to be channeled to areas where it won't accumulate and cause flooding.
Sidewalk: the longitudinal area usually located on both sides of a road intended for pedestrian traffic.
Bike lane: the area on a road exclusively for bicycles. These can go in one or two directions, and they have different names depending on their characteristics.
Roads also have parts associated with the route or demarcation involving things other than vehicles within the road layout:
Pedestrian crossing: the area that connects one or more streets for foot traffic, crossing the vehicular roadway.
Intersection: road infrastructures for crossing and connecting two or more roads. There can even be crossings between other transportation systems like railways.
Hard shoulder: a flat space or a longitudinal strip that separates the road from the ditch. It is not intended for vehicles to drive on; it's usually used as a vehicle assistance area when needed.
Roundabout: a structure used to facilitate intersections and reduce speed in order to reduce the number of car accidents. This structure connects sections of the road with a ring for traffic with different exits.
Stop: an area of the road where public transportation stops for passengers to get on and off.
What will the roads of the future look like?
Technological advances have also directly impacted communication and road infrastructure systems; roads currently play a fundamental role in terms of innovation in layout systems, signage, paving, and protective elements.
This is how the roads of the future are built, as they're designed to fulfill multiple functions. These range from warning drivers of the possibility of committing a traffic violation to incorporating communication sensors to reduce waiting times in the event of accidents, and even automatically charging electric vehicles while they're running.
On smart roads for smart cities like China, the United Kingdom, Japan, the United States, and Spain, roads are no longer just infrastructure for vehicular travel. Instead, they're becoming information pathways using technologies like 5G and the Internet of Things to facilitate roadway communication, ensure safety, and even generate energy.
What are solar roads?
The pavement on these roads is made with photovoltaic panels, which can transform solar energy into electricity. That is, common asphalt is being replaced by solar panels.
The world's first solar road was built in France on a stretch one kilometer from the town of Tourouvre-au-Perche, in Normandy. It was made up of 2,800 square meters of solar panels covered with sheets of silicon that could withstand the weight of more than two thousand vehicles a day. The expectation for this pilot project was to create a road that could provide electricity for public lighting; however, the initiative didn't obtain the desired results.
In the state of Georgia in the United States, the same technology was used to install 50 meters of solar road, capable of generating 7,000 kWh/hour per year. Through the Smart Road Dot system, which has solar-powered LED lights and backup batteries, this road also generates reflective points with traffic information for users.
Nuestros proyectos destacados
Conoce nuestros proyectos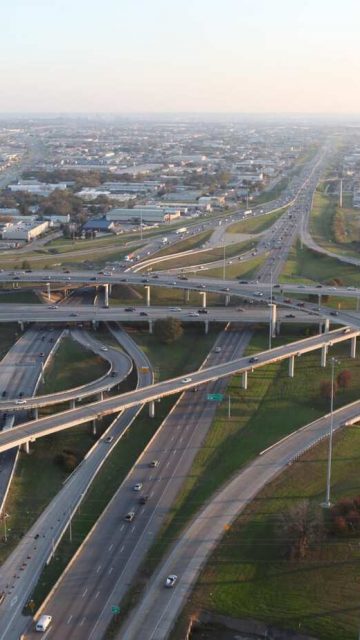 Autopista LBJ en Dallas, Texas, EEUU
Discover the project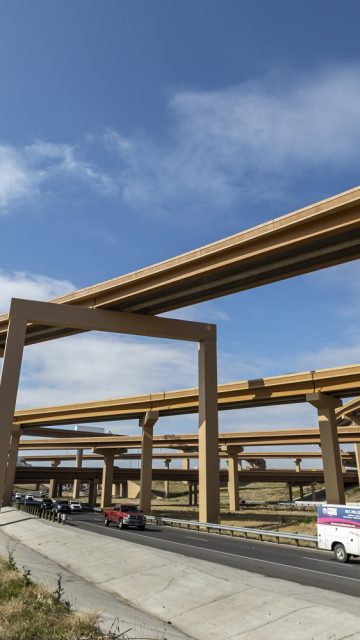 Autopista North Tarrant Express
Discover the project
Google Play
App Store