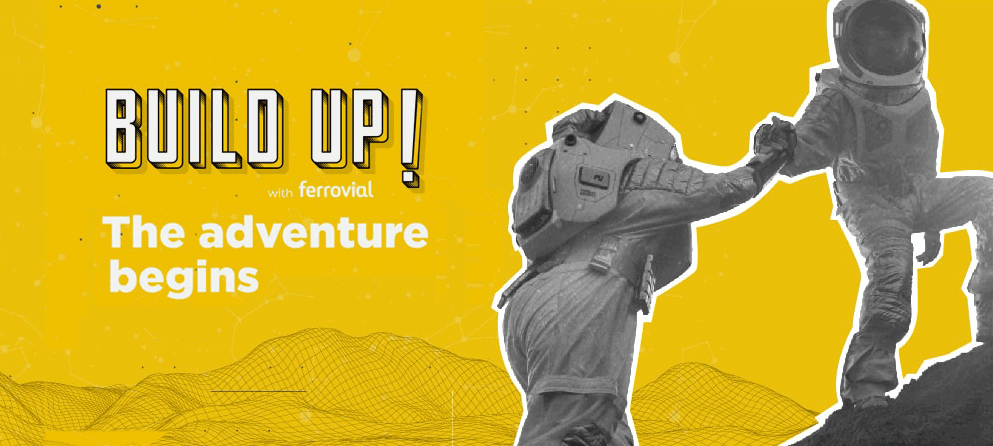 logo Build Up!
Ferrovial Build Up! 2019
Do You Have a Technological Project That Can Transform the Construction Sector?
We are looking for start-ups, research groups and entrepreneurs who want to solve the Build Up! challenge and collaborate with Ferrovial in the development and implementation of their idea. Join us!
What Are We Looking For?
Build Up! is looking for start-ups, research groups and entrepreneurs of any technological area with products or services capable of totally or partially solving the proposed challenge or any of its success stories. To be precise, Build Up! aspires to collaborate with:
Start-ups with a technological base or companies promoted by members of a scientific or research institution (spin-offs)
Research groups from universities and academic institutions made up of geotechnical experts, researchers, teachers and/or students
Groups from research centers, institutes and laboratories that are pushing forward new courses of action in the field of geotechnics
Teams that are part of an organisation's R&D division and that are developing new technological solutions in the field of geotechnics
The Award
The winner of Ferrovial Build Up! 2019 will be selected during Launch Day and will have access to the following benefits:
Pilots: Conceptualization, development and implementation of the solution using the resources and infrastructure made available by Ferrovial.
Financing: Compensation determined by Ferrovial to cover expenses related to the development of the pilot.
Support: Access to the knowledge and experience of sector experts working hand in hand with Ferrovial Agroman.
Networking: Visibility and access to Ferrovial's international network of customers and suppliers
Milestones
October 2nd: launch of the challenge
November 27th: closing of call for applications
November 28th / December 10th: jury evaluation
December 19th*: Winner announcement event Negotiation period: after the winner has been announced
*Dates are subject to change by the organization.
Read Build Up! Articles on Our Blog
Google Play
App Store